Olive You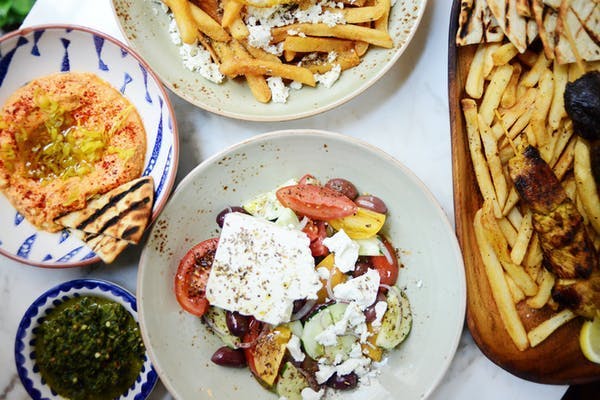 Agrinion Olives
Agrinion olives come from the Agrinion region of Greece, close to the West sea.
Along with the world-famous Kalamata, they are one of the most popular Greek olive varieties.
They are the medium to large fruit of the Conservolea tree, one of the oldest olive trees in the world.
Although they often sell as light green olives, they come in all shapes and sizes, and they are available in green and black form.
Amfissa
Amfissa olives are another Greek variety, and they grow in central areas of the country.
Notably, they are one of the few types of olives to have protected designation of origin (PDO) status.
Although they come from the same (Conservolea) tree, Amfissa olives have a different taste to the Agrinion.
This difference is due to the contrast in environment—and elevation—in which they grow.
Depending on the environment, the climate in which they grow, and the maturity of the fruit, Amfissa can taste anything from bitter to sweet and grassy to fruity.
Amfissa is among the most common Greek olives, and growers produce them in both black and green form.
As growers pick them at a very young age, they are small in size and have a soft and slightly citrus sweet taste.
Producers usually cure Amfissa olives in a sea salt and citric acid brine.
Arbequina
Hailing from Catalonia, these Spanish olives are one of the most famous olive varieties in the world.
Although they originate in Spain, Arbequinas now grow throughout the world in places such as Australia, Argentina, Chile, Peru, and the United States.
They are also one of the more unique-looking olives as they have a light-brown exterior color.
In addition to their unusual appearance, they have a firm flesh and a deliciously light and fruity taste.
As the flavor is relatively mild, it's better to use them as a table olive rather than as part of a dish.
Castlevetrano
As you may be able to tell from the name, Castelvetrano olives come from Sicily in Italy.
They are renown for being one of the best-tasting olives in the world, and their appearance is a striking bright-green color.
The Castelvetrano is medium-large in size, and typically comes pitted in a salty brine.
These Italian olives have a firm flesh, but they are soft on the inside and somewhat similar to an avocado's buttery texture.
Their light and mild taste make them ideal for a wine and cheese platter.
Gaeta
Gaeta is a very popular Italian black olive from the small city of Gaeta on Italy's West Coast.
Like Gaeta itself, Gaeta olives are small in size and appear in various shades of purple.
Ordinarily, they are packed in brine and then marinated with olive oil.
The olives themselves are very soft and, despite their small size, they pack a lot of flavors.
Specifically, they have a meaty texture and a slight sourness about them.
For this reason, they make a great accompaniment to cheese and would suit a mature hard cheese.
Kalamata
The Greek Kalamata olive is one of the most famous varieties in the world.
An attractive deep reddish-purple, they grow close to the Ionian sea in the Kalamata region of Southern Greece.
Kalamata olives are reasonably large, and as they contain moderate amounts of oil, growers produce them for use as table olives and oil.
There are many different forms which these olives take, but they often come in brine and red wine vinegar.
Due to their natural properties—and the bringing process—they have a soft, fruity but slightly bitter flavor.
Similar to the Gordal, producers often stuff Kalamata olives with various ingredients; feta cheese is a common one.
Manzanilla
Originating from Sevilla, a city in the southern region of Andalusia, Spain, Manzanilla is one of the most famous types of olives in the world.
For instance, if you have had store-bought green olives before, then you've almost certainly sampled a Manzanilla.
In fact, they even have the alternate name of 'green olive.'
Typically these Spanish olives are pitted, stuffed with pimento, and then packed in brine.
One reason why they are so commonplace is the Spanish Manzanilla's high fruit yield, which enables large-scale production.
While the Manzanilla is a prevalent table olive, it is also one of the most common sources of oil.
Picholine
The Picholine is a small and green olive that originally comes from the region of Gard in southern France.undefined
Notably, it is the most common olives in France, and it is now flourishing all around the world.
Like many other types of olives, the Picholine is being used to produce both table olives and oil.
As a table olive, its firm and crisp texture accompany a mild and fruity flavor, which makes it a typical fixture on cheese platters.
For a delicious but simple meal, pair it with some prosciutto, salami, and Camembert cheese (and add a glass of wine if you want!)
Additionally, oil producers make use of the Picholine for its light and mild flavor.
Verdial
Verdial olives have an unusual bright green color, and they mainly come from the Velez-Malaga region of Spain.undefined
However, there are various kinds of Verdial which all share slightly different properties.
The actual olives themselves have a very firm flesh, a medium buttery texture, and a crisp, clean fruity taste.
Further, producers usually pack them in some mixture made from various herbs and/or spices.
Due to their pleasant taste and availability, they are one of the most prevalent types of olive in Spain.