Recipe: Beet-Walnut Dip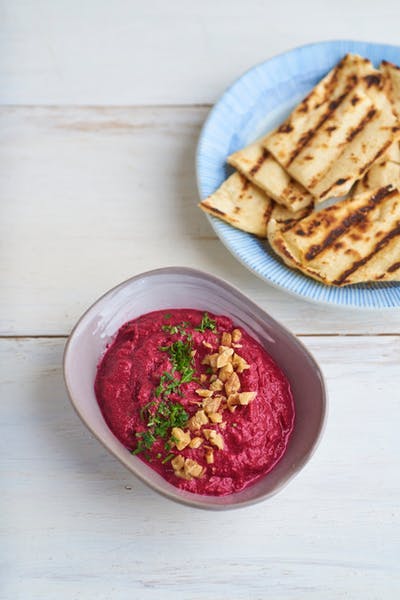 Amali's Beet - Walnut Dip
Gorgeous, creamy and healthy hummus. Vegan; makes enough for a crowd.
10 Walnuts about 1½oz plus more for sprinkling on top
½ Boiled or roasted beets
3 tablespoons lemon juice
2½ tbsp balsamic vinegar
3 tbsp tahini
½ tbsp ground cumin
½ garlic clove minced
1½ tbsp olive oil
Chopped parsley for garnish
Salt and pepper to taste
Add all the ingredients except the olive oil and parsley in a food processor. Blend well until smooth.
Slowly add the olive oil and blend. Taste and add salt and pepper as needed.
When ready to serve, sprinkle with chopped walnuts and parsley. You can also drizzle some additional olive oil.
If you have time, cover and refrigerate for at least an hour before serving.