The Rose All-Stars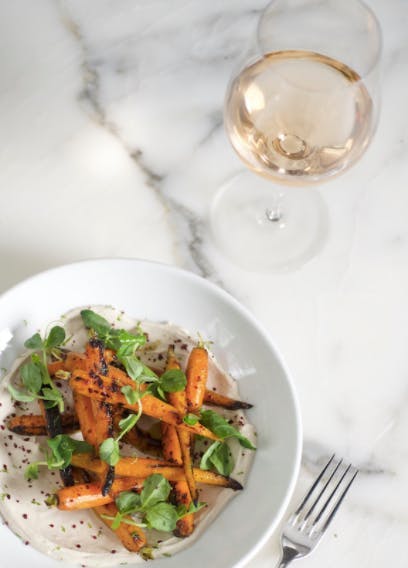 It's safe to say that we are OG rose fans. Before Rick Ross, Sacha Lichine, and White Girl Rose, James was sipping on that pink at Breeze Bar in Mykonos throughout the 90's.
Let's cut through the over-marketed, too-cute deluge of bottles of rose at your local wine shop - these are the true MVPs. Final word of wisdom: Rose is NOT just for the summer. Make summer a state of mind and enjoy it year round.
Chateau de Pampelonne
Named for legendary beach on the French Riviera, this international favorite is crafted in classic Provence style by a female winemaker.

Perfect For: The Provence Purist
Pairs With: Grilled tuna steaks with olive tapenade
Chateau des Marres
The only wine boasting the St. Tropez appellation, this aperitif-friendly wine has notes of ocean breeze and strawberries.
Perfect For: The Name Dropper
Pairs With: Heirloom Crudite with Bagna Cauda
Biblia Chora Estate Unknown Varietal
Created from a varietal recently discovered on Mt. Pangeon, this rosado-style wine has a Sauvignon Blanc-esque flavor profile.
Perfect For: The Know-It-All
Pairs With: Local Fluke Crudo, Fresh Oysters, Grilled Branzino
Clos Alivu Rose
Considered the most prestigious wine from the Mediterranean island of Corsica, this organic wine is floral, subtle and elegant.
Perfect For: The Session Drinker
Pairs With: Linguine alle Vongole, Greek Salad with Arahova Feta
La Spinetta Il Rose di Casanova
This medium bodied, spicy Tuscan rose is made with indigenous yeast, giving it a wild and complex finish.
Perfect For: The Year-Round Rose Drinker
Pairs With: Whole Roasted Lamb, Spicy Kafteri Dip