Wine Picks: The Wines of Santorini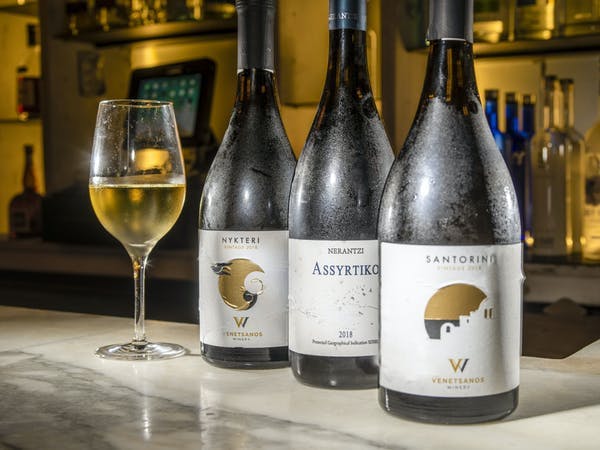 Wines of Santorini
When arriving by boat to the island of Santorini, you're met with a cliff face rising from the Aegean and jutting up what seems to be a thousand feet. On a clear day you may see a cluster of charming white buildings perched on top, almost unreal in their height. You'll wonder — how will I possibly get up there? And maybe — how could grapes possibly grow there?
This cliff face is actually the remnant of a large volcanic caldera, which violently erupted around 1600 BC and was one of the largest in recorded history. Historians believe that the destruction, the resulting tsunami and the buildup of ash led to the collapse of the Minoan civilization.
According to ancient Greek mythology the entire continent of Europe was born when the Phonecian Princess, Europa, was brought from Lebanon to Crete where her son, King Minos, started this ancient Minoan civilization — a civilization that perfected the art of wine making (not to mention indoor plumbing). So, it feels fitting that the nearby island of Santorini's popularity has skyrocketed recently, becoming one of the hottest wine appellations — and travel destinations — on the planet. It all started here.
Despite its quaint blue-domed churches and charming villages, Santorini has an imposing, almost callous natural landscape with dusty, arid plains and frenzied wind. Due to the force of these gusts, any plant that grows over a foot and a half is likely doomed to be knocked down. Instead of the classic vine training that you'll see from Bridgehampton to Bordeaux, the vines in Santorini are grown low to the ground, woven and trained in a circle that is wrapped around itself. A basket-like shape is created, called a kouloura, which serves dual purposes: the emerging flowers and grapes on the inside of the basket are protected from wind blasts and blazing sun, while they're able to retain precious morning dew (almost as a form of drip irrigation). Typically, vines are cultivated well above ground to distance them from weeds, insects and humidity but Santorini's dry and harsh conditions negate these concerns. Luckily, the island is also Phylloxera-immune as its young, volcanic soil is completely free of clay. The basket system is expensive and time consuming, taking four times longer than in the more traditional Guyot trained vineyards, which explains the relative costliness of Santorini wines.
The vineyards are mostly composed of four varietals: Assyrtiko (70%), Mandilaria (20%), Athiri (5%) and Aidani (5%). All of these grapes produce white wines except for Mandilaria, an indigenous Cretan varietal also found in other Greek islands such as Chios, Paros and Rhodes. Mandilaria is dark red, with high tannins and acidity, though light bodied and delicately fruity and spicy — a good match all year long for spiced, intense Greek food. Athiri is a typically straight forward and crowd-pleasing white with soft acidity and medium body with fresh, lemon notes. Meanwhile, Aidani produces floral-scented wines with rich citrus notes, but is low in acidity.
The queen bee on Santorini is the Assyrtiko grape. It produces an excellent combination of steely structure, sparkling minerality, surprising depth, relatively high alcohol and racing acidity. It's a perfect food wine, especially in the summertime, and fits the common request for a "dry, crisp" white wine, while remaining true to its terroir's unique expression. Though Assyrtiko's intense personality is sometimes toned down by the roundness of Aidani and the more expressive Athiri, I'll discuss my favorite 100% Assyrtiko wines below. You can try them in the restaurant alongside a grilled Branzino and lentil salad, or for takeout, perhaps with a spinach pie and Greek salad.
Boutari
We often liken Boutari to Mondavi as the OG in Santorini. Christina Boutari is a good friend of the house at Calissa so although Boutari is now a large company that has been producing in Santorini since the 1980s, it still feels (and is, at its core) like a family-run business. Santorini owes much of its popularity to Boutari as they were the first to create a private winery in 1988 — and to this day it remains both a worthy tourist attraction and an architectural feat.
Boutari's classic Assyrtiko is a staple at Calissa, offering intense acidity, lemon zest, and jasmine with a salty, bright finish. We like to think of it as the gateway drug into the world of Greek wines.
Hatzidakis
The late visionary Haridimos Hatzidakis was the first on Santorini to experiment with wild ferments, oxidation, late harvest, and low sulphur levels. However, marketing and optics are of little importance to Hatzidakis (when I was visiting the winery, I saw watermelon growing wild next to grape vines and a cellar full of haphazardly placed equipment). Even from an arm's length, you'll see that they utilize old-style, rustic labels on bottles that are transported in thin cardboard boxes. It's a stark comparison to the pristine, sparkling clean cellar environments often displayed by commercial wine enterprises, whose top cuvees are emblazoned with the latest work of an overseas graphic designer and transported in branded, high end boxes. Hatzidakis' singular obsession is with what's in the bottle.
Several of Hatzidakis' cuvees are favorites among our guests. The Familia is a super salty, refreshing crusher that is easy drinking with or without food. The Cuvee No. 15 is feminine and floral with honeysuckle and chamomile on the nose and a lengthy mineral-rich palate. If you're lucky enough to taste the highly allocated Assyrtiko de Louros, you'll find a complex, dense wine with rich French oak notes and a long finish. The Skitali is accompanied by the beautiful concept of Haridimos passing the baton to his daughter, Stella, as the wine is a blend of an unfinished barrel wine made by Haridimos and wine that Stella has made since her father's passing. You can't go wrong with a wine from Hatzidakis, and it's a pleasure to discover each nuanced cuvee.
Venetsanos
Venetsanos is one of the oldest wineries on Santorini, built in 1947, right above the port. All Venetsanos wines are single vineyard; overall production is one of the lowest of the island and the standards are exceptionally high.
The classic Venetsanos Santorini is salty and rich, while maintaining the lip smacking crispness that is characteristic of Santorinian Assyrtiko. It is a favorite among our sommeliers and guests. Venetsanos' Nykteri, meaning night harvest, is a style of Assyrtiko made by grapes harvested at night in the cool early morning hours. The cooled grapes are pressed immediately to preserve freshness, then must be aged for at least three months in barrels (Venetsanos ages for four months), resulting in a higher alcohol and riper style of wine. It's perfect if you're in the mood for a heavier style white, perfect with rich and creamy shellfish dishes, full bodied cheeses and light meat dishes.
Sigalas
As blue-chip as they come, winemaker Paris Sigalas is considered one of the founding fathers of Greek wine in Santorini and a true superstar. Originally a mathematician, Sigalas is compelled to innovate every few years in various ways. His breakthroughs include the establishment of the first vertically trained vineyard on the island (remember that the power of the wind makes this a precarious task), an impossibly well priced yet quality Nykteri, and one of the first single vineyard, stainless steel aged cuvees called Kavalieros at a time when oak aging was all the rage (good luck finding this cuvee now, it is rare and highly allocated).
For over a decade, Sigalas has been sourcing his grapes from seven different villages. Instead of making his usual blend in 2015, he opted to make seven different single-village cuvees, available in a limited release seven pack (about a thousand bottles were made from the grapes of each village). Calissa was lucky enough to receive a small allocation of these, so you can taste the village specific wines from Ia, Vourvoulos, Imerovigli, Fira, Pyrgos, Megalochori, and Akrotiri. Sigalas' next innovation: a Nykteri style wine made purely from the Aidani grape. We can't wait to try it!
Taste Them At Calissa
You can taste many, many Assyrtikos at Calissa and Amali including the bottles listed below.
Assyrtiko, Venetsanos, Santorini 2017
Assyrtiko, Venetsanos 'Nykteri,' Santorini 2018
Domaine Sigalas, 'Kavalieros,' Santorini 2018
Hatzidakis, 'Familia,' Santorini 2019